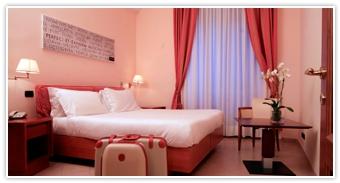 Crosti Hotel in Rome boasts a timeless elegance and places at your disposal comfortable and spacious rooms, designed with care by an architecture studio, where the choice of the materials is very accurate and refined, in order to offer the best: natural colours of the walls, cherry-wood furniture, cotton fabrics and towels.

All is very accurate for an attentive and personalized service.

The rooms are real heaven of peace, where you can find every modern comfort: mini bar, satellite LCD TV, strongbox, LAN internet, private service equipped with courtesy kit and hairdryer.

Moreover, Crosti Hotel boasts a unique situation: in the heart of Rome, close to the main monuments of the city, but also near the most important places of the institutions and economy, at a few steps from the ministries, as well as museums, churches and shopping streets.

The perfect choice for your business or pleasure trip in the heart of the Italian capital.